Hari kedua di Gili Trawangan kita mau maen ke GIli Air , krn krg info kita ketinggalan public boat sayang bgt soalnya naik public boat cmn 10-20 rb/org kita bisa ke Gili Air & Gili Meno pergi pagi plng sore . Terpaksalah kita charter boat untuk ke Gili Air sekali jalan 200rb/boat mhl ya, kan letak dua Gili itu ga jauh dr Gili Trawangan cuma 20-30 mnt .
Kita udah kesiangan tuh soalnya kagak tau sih , pinteran bule2 mrk udah tau loh ada public boat ke Gili Air & Meno cmn jadwalnya sehari 1X saja berangkat pukul 08.30 . huhuhuuuu . Terpaksalah naek private boat , enak sih ga ada org laen tp kan mhl ye ? pp jadi 400 rb . cincailah asal nyampe deh ha3x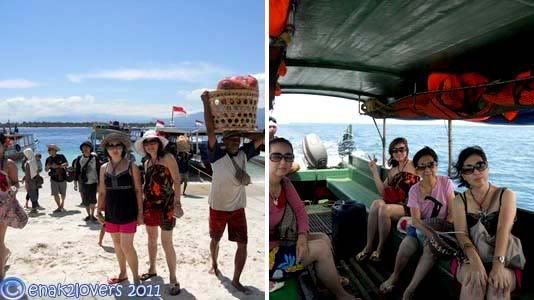 Sepanjang pelayaran liat laut yg bersih jernih banget , sayang g kagak bisa berenang jd ga brani diving wahahaa , org2 tuh ke Gili buat diving/snorkling g malah maen aer sampe puas wkwkwkkkk . Dari boat jelas terlihat gugusan 3 Gili , kita gak bisa ke Gili Meno (gili yg terletak diantara G Trawangan & Gili Air) kt si abang kapal soalnya disana air lagi surut jd kapal ga bs merapat sampai pantai . Ya sutra lah...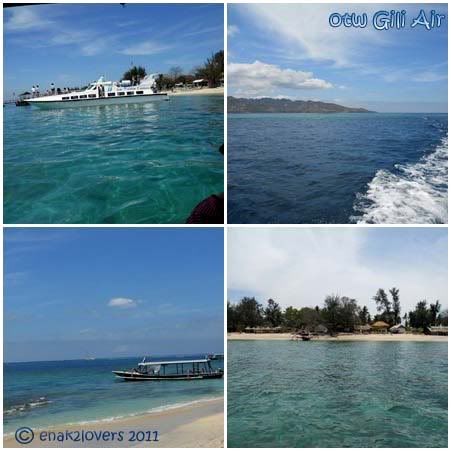 Gitu mendekat ke Gili Air kliatan laut tenang , matahari panas terik , terlihat dr jauh sunyi n sepi sekali pulaunya . Kita trn kapal seperti biasa g lgs celap celup kaki di pantai yg bening banget , ehh ga lama lg muncul tk jualan souvenir . Kasian g liatnya dagangan sepi , g sih ga tertarik sama mutiara2 air tawar yg mereka jual , mami n cc g pada asik milih2 .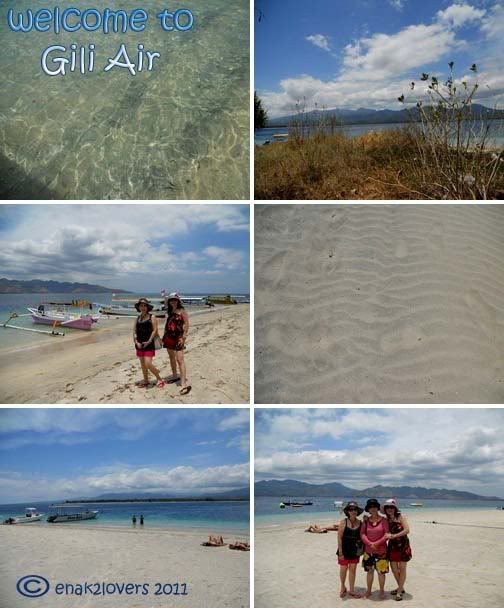 Kelar milih2 kita pindah lokasi ke arah ScallyWags Organic Beach & Resto satu2nya resto yg bagusan di pulau tsb , nah disini baru kliatan turis2 asing . Mrk pada sun bathing , gilee ditengah matahari jam 12 an mrk jemuran hihhhhi .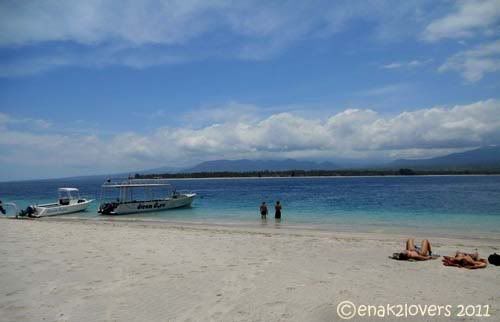 Kita mah yg baru sebentar aja udah gemerocos keringetan , lgs order es campur n softdrink . Scallywags yg pny org bule , dgr2 katanya mrk ada bungalow juga disitu emang sih di Gili Trawangan mrk pny penginapan n resto juga .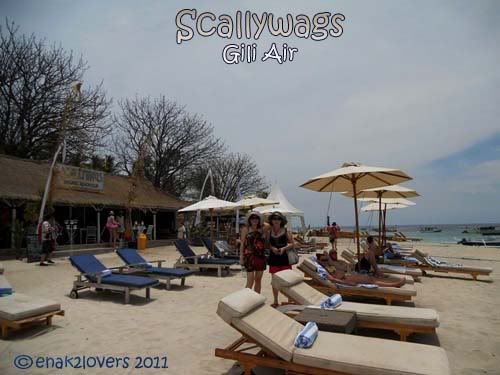 View di depan Scallywags emang paling asik , laut biru jernih , turis2 pada goleran baik di kursi pantai or di pasir putih sunbathing smuanya , ga takut kulit belang or rusak yah ? itu laut di depan mata bgs banget tenang nyaris tanpa gelombang gede , di seberang laut terlihat Gili Meno . Yg asik di tengah laut ada maenan yg kae gini nih :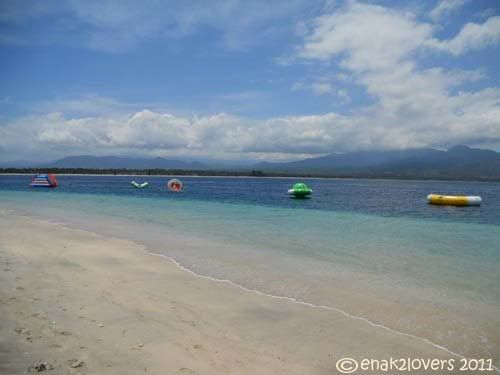 Itu ada yg bola2 ada yg kae piramyd2 , kaenya musti bayar deh maen2 didalam situ , tp g liat ga ada bule yg maen2 di dalam bola2 itu wahahaaa , pdhl g pgn ikutan maen juga sebenarnya . Ya terpaksa kita cmn maen2 aer doank, seru banget deh sambil poto2 persis kae bocah kampong wahahahaaa .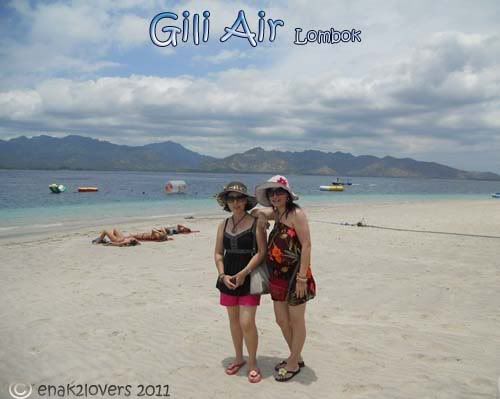 Pokoknya puas banget deh maen aer disana krn bersih trus sepi , kalau Gili Trawangan udah rame nah disini tenang sepi . Kelar maen air kita kelaparan order Burger di Scallywags n minum ga abis2 saking panasnya , trus si bule maybe the owner baik loh dia blng mau ga kita smua dipotoin ama dia , yah lgs g jwb "sure" thank you lgs deh ceklak ceklik . Dgn ramah dia mempersilahkan kita meneruskan mkn n minum .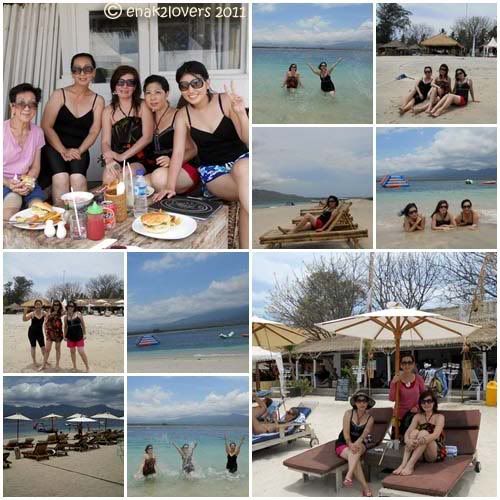 Kelar mkn n minum si abang perahu uda cari2 kita , its time for returning Gili Trawangan maksud dia tuh . Dasar si abang nih ! g kan uda byr mahal2 masa disuruh cepet2 balik sih ? ehh liat2 jam udah lbh dr 2 jam kita disana , Okeh lah kita hrs pulang n janji dlm hati next time kita akan balik lg ke Gili Air I like it n love it ! beneran bgs deh , trus next visit g jg akan maen ke Gili Meno yg kt org ga kalah bgs dr GIli yg lain . Oh iya just info skrg lagi "trend" ke Gili Nanggu yg letaknya di sebelah selatan dr Senggigi . katanya bagus banget masih origin tp turis bule udah pd mulai kesana . Jadi pgn juga kesana . Lombok I'll be back someday !