Lihat kebunku penuh dgn bunga ..
Brapa waktu lalu di kebun g tambah koleksi tumbuhan baru >> yg paling dominan jenis Adenium yg sekarang banyak banget silangannya . Dulu g cuman tau yg warna pink itu yg emang paling gampang tumbuh nya sepanjang tahun berbunga terus smp bosen g liatnya . Ehh skrg g liat kok bnyk yah warna adenium nya menarik2 juga bentuk dan kelopak bunga nya . Pas ada pameran bunga kemaren , adek g borong brapa pot Adenium . Dia emang ada sedikit hobby bisa utak atik tanaman . Kemaren g iseng poto2 n g coba cari sejarah adenium tapi pas googling lom nemu malah nemu brapa nursery yg g liat bgs2 yah n telaten amat org urus tanaman2 .. Yg g tau Adenium berasal dari daerah Gurun pasir >> pantesan demen banget sama sinar matahari yeh !
G baca cara kembang biak nya , saking di rumah g skrg bnyk Adenium ha ha …. Tiap sore sepulang gawe g liat2 di kebun depan tuh bunga2 nya … mayan lah menghibur mata g yg lagi kelaperan . Dari brapa pot koleksi baru yg ada di rumah g suka yg satu ini >> "Sonoma" bgn dalam bunga warna putih tepi kelopaknya kemerahan trus yg agak sedikit aneh krn tiap kelopak bunga agak bergulung ke arah belakang seperti di roll ke luar gitu . ha ha …g sampe sayang2 takut pot ini ga berbunga lagi , tiap kali sirem pohon g selalu wanti2 bunga nya jgn diguyur aer bnyk2 ntar cepet busuk . he he
Trus satu lagi yg warna merah menyala >> "Red & Blue" krn tepi kelopak bunga berwarna biru kehitaman trus dalam nya merah menyala … bagus deh ! ada lagi brapa pot yg masih kuncup belum mekar bunganya . Namanya keren2 loh ada >> Eye of The Storm , Putih Ayu , yg paling aneh >> Harry Potter ha ha ha …. Tapi yg ini lom ada bunga nya , g masih bersabar tunggu muncul bunganya mau liat spt apa sih Harpot adenium ini .
Trus koleksi laen yg baru beli > Bunga Kastuba g demen liat daun nya yg bisa jadi merah menyala itu (bunga khas X'Mas) tapi gitu daunnya gugur atu2 ntar jadinya daun warna hijau n ga pernah bs jadi merah lagi . Ga tau gmn bisa jadi merah kata org2 >> pohonnya musti ditaruh ditempat gelap or dikerudungin pake koran or kantong spy ga kena sinar matahari ?? masa sih ? g sih lom pernah coba . Kastuba yg g dapet setahun lalu smp skrg ga pernah jadi merah lagi daun nya , ha ha …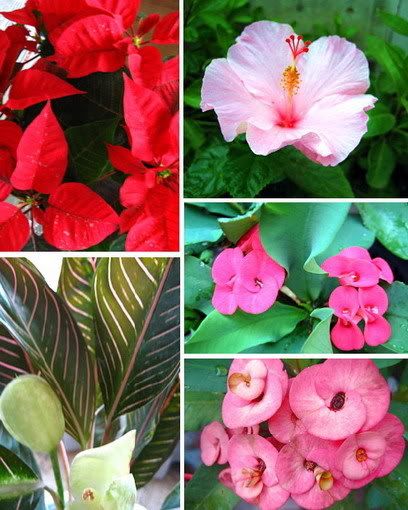 Ada lagi Bunga Sepatu (bunga jadul) , trus bunga bergerobol yg batang daunnya penuh duri >> ga tau namanya ! unik tuh bunga nya . Trus jenis daun yg mahal (liat sirip daunnya dgn warna bgs) lupa ini masuk jenis Aglonema ato Anthrium yah ? g bukan tukang daun sih, cuman penikmat aja jadi ga kerajinana apalin nama2 jenis tanaman itu ha ha ..
Tapi berkebun g rasa bisa meredam stress idem dgn memelihara ikan >> pikiran jadi adem . Kata org kalo kita berkebun mirip dgn memelihara anak , selaen dipupuk , disirem n rentetan perawatan laen musti juga tanaman diajak bicara .. hahhhh bener ga sih ? tanaman tsb akan ngerti kalu dia disayang maka dia akan sering berbunga/berbuah … ola la la aneh2 aja tapi mgkn mskd nya kita hrs sepenuh hati merawat tanaman juga ha ha …