Pagi pertama di Jaipur kita dibawa melihat "Hawa Mahal" yg artinya Hawa = angin , Mahal = istana jadi artinya "Istana Angin", atau "Palace of The Winds" tujuan wisata ini sangat terkenal di Jaipur district Rajashtan krn bentuk istana yg unik dgn jendela kecil2 yg banyak jumlahnya . Dibangun thn 1799 atas perintah Maharaja Sawai Pratap Singh dgn arsitek Lal Chand Usta . Dibangun dgn gaya arsitektur Hindu & pengaruh gaya Mughal . Bangunan 5 lantai ini dinamakan Istana Angin krn jumlah jendela kecil2 yg mencapai 953 buah . banyak amat yah ?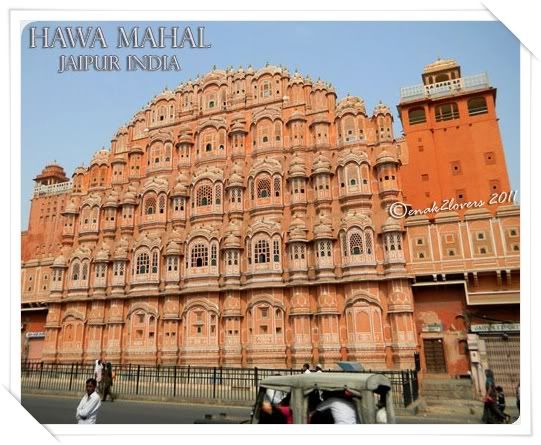 Dibangun dari pasir dan batu merah , istana tsb terlihat masih kokoh n terawat dgn baik . terletak di pusat niaga kota Jaipur . Fungsi dr jendela yg begitu banyak untuk putri2 raja yg ingin melihat pemandangan di luar seperti kehidupan sehari2 di luar istana , parade atau festival2 . Karena mereka tidak blh terlihat oleh sembarang orang khususnya kaum laki2 . Terpaksa mereka harus mengintip dr jendela kecil2 dalam istana . Kasian yah ? wahahaaa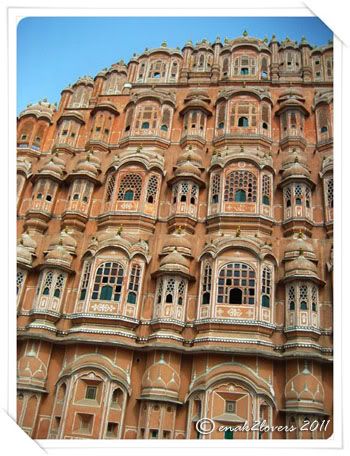 Begitu sampai ke lokasi , kita ga dibawa masuk ke dlm istana krn istana ini sdh tinggal bagian depannya saja , jadi seperti Ruin of St Paul di Macau , tinggal bagian depan saja . Untuk mendapat spot photo/view terbaik kita hrs masuk dr toko2 di seberang jalan . Sepertinya salah satu bangunan toko di seberang jalan tsb sdh dibeli oleh Dinas Pariwisata Jaipur , melewati tangga yg sempit n curam kita bisa naik sampai di atas balkon yg menghadap langsung ke Hawa Mahal . woyyy bgs banget dilihat dr seberang jalan ini .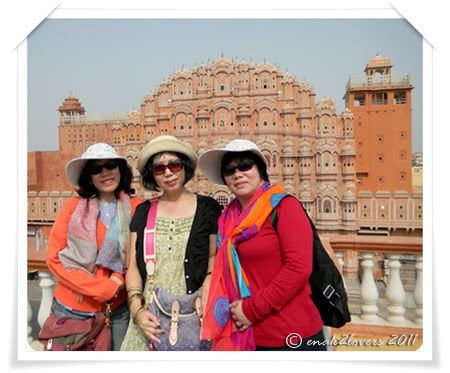 Langsung kita poto2 disini meski pagi itu panas terik menyengat , kelar poto2 kita lgs digiring turun , ga sabar kita pgn langsung shopping di toko2 dibawah yg bny banget menjual suvenir2 khas Jaipur .. gelang2 , baju2 n sandal2 khas Jaipur India. Tapi Tour Leader n Guide Local udah wanti2 kita ga blh lirik2 n shopping dulu krn kita hrs buru2 beralih ke tujuan wisata berikut . hari ini schedule kita cukup padat jadi acara shopping di jadwalkan ntar sore begitu acara tour selesai . terpaksa kita ngalah n masuk bus . hahaaaa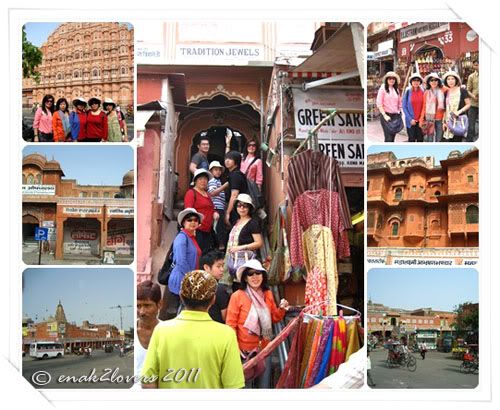 Sebelum berangkat tadi pagi di Htl kita sarapan pagi dgn hidangan Khas Jaipur India , g sih suka2 aja smua menu yg tersedia ada roti2 khas India & intl . Selama di India baik pagi, siang & malam g always makan kari2 India n ga pernah bosan .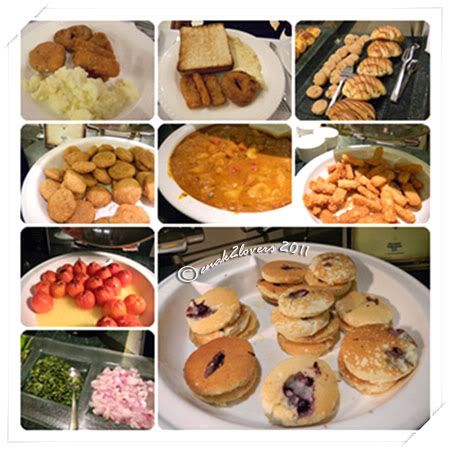 Krn tujuan berikut >> Amer Fort & City Palace photo2nya banyak banget terpaksa g pisah postingannya . Meski smua selesai dlm 1 hari kunjungan (BERSAMBUNG)