Mampir ke Bdg sebelum plng ..
Pagi itu hari terakhir journey g akhir taun , g udah siap check out setelah B'fast di Htl ampir jam 9 ketika g meninggalkan Htl Puri Indah , cuaca cerah tapi sial nya pagi itu g mulai puyeng palanya n mau muntah , wahh gawat deh pasti masuk angin nih ! gara2 maren keujanan mulu , di jalanan g minum Paramex . Setelah sempet muntah di pom bensin mana yah g udah seger lagi . huhhh payah deh ! Jalanan lancar sampe daerah mana tuh yah bnyk tk jual pete , eh nyokap mau beli lagi , g protest aja n kebetulan harga nya ga cocok jadi batal … ha222 pusing deh tuh nyokap apa juga mau dibeli . kae ga tau aja tuh bagasi mana ada space lagi sih !! Masa pete mau dibeli 100 papan , mau dibagi2 katanya .. gile ga tuh ! . Untung deh ga jadi .
Masuk perbatasan Jabar trus ke arah Tasik , lwt Sumedang baru masuk ke Bdg . Sepanjang jalan Sumedang terlihat banyak yg jualan tahu Sumedang , biasalah si nyokap gatel deh kalo ga beli . Turunlah dia n beli brapa keranjang buat oleh2 kerabatnya di Bdg .. ampun deh dia tuh !! ha22 G sih ga gitu napsu liat tahu , krn tahu Sumedang udah bnyk n biasa di Jkt . G makan yg asli Sumedang juga rasanya biasa2 aja ga istimewa , ngapain hrs cape2 beli ??
Sampe Bdg kira jam 13.30 . Lgs ke rumah tante n om g di Dago . Nih tante & om pny toko kue "La Belle" namanya , g klupaan promosi n introduce to anyone krn keseringan borong di tk kue laen kalo ke Bdg . Bukan ga enak loh !!… kalo org Bdg pasti dah tau kan ! toko kue ini pernah nge top n berkibar di taun 90 an …. Bnyk celebs n org terkenal pasti mampir kesitu kalo ke Bdg , salah satunya Pak Habibie .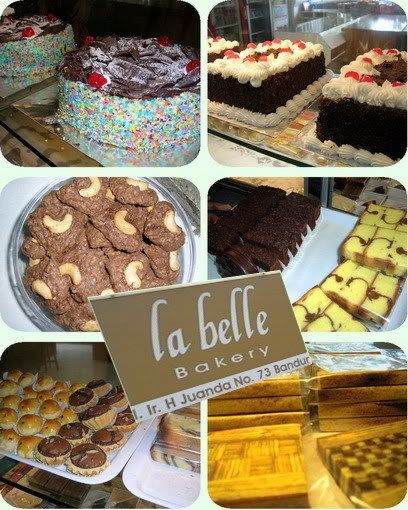 G skrg dah bocen krn keseringan makan n dapet jatah rutin kue La Belle jadi udah bocennn banget , jadi kalo ke Bdg g beli ke tempat laen . he222 . tante g sih ga g kasih tau , gak enak lah yah kan sdr sendiri jualan kok malah beli sama org laen , wakakakkkk . Yg paling topp n enak di toko dia tuh lapis legit nya yg ragam ya ada brapa macem , ada prunes, mascovis, lapis tikar, domino , lapis coklat dll . trus risoles keju nya . Yg laen juga enak2 loh termasuk brownies kukus keju . Yg paling gress g dikasih coba marmer cake nya mayan enak , jauh lbh enak dari Prima Rasa (kering n seret)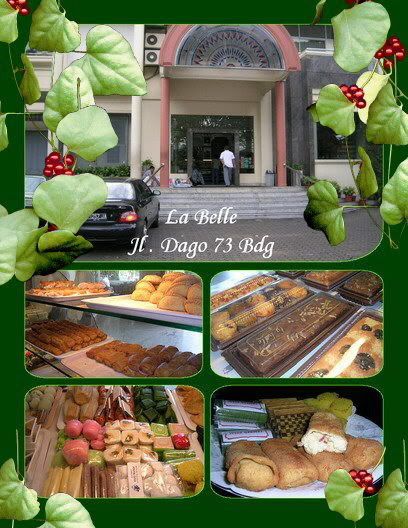 Udah lunch disana , si nyokap ngobrol2 sama sodaranya sampai ampir jam 4 an . G udah ga sabar pengen buruan plng ke Jkt . Tau napa kali ini g krg minat nginep di Bdg mgkn udah keseringan akhir2 ini goes to Bdg . Setelah pamitan , satu lagi tuh didatengin rumah sdr g di Pasir Kaliki , disitu ngobrol2 juga ampe g udah BT akhir nya g malah tidur2an . Akhir nya menjelang 19.30 g plg juga ke Jkt . Horeee akhirnya g back to home lagi , Jam 21.30 g sampe di rumah , huhhh cape nya pergi marathon 6 hari 5 malem . Tapi mayan lah g enjoy juga bisa icip2 makanan baru di Jawa . Met tinggal smuanya , makanan nyam2 di Smg, org jawa yg ramah2 , perkampungan yg bersih n teduh , tk beca n andong yg baek , Mie Ongklok & mie Jowo yg anget2 mayan , Sampai pagi ini di jalanan tiba2 g pengen banget makan sosis solo yg masih anget2 … huhh mak nyuss banget deh . Kapan g pergi ke Jawa lagi yah ???