Sapu Lidi & Tangkuban Perahu .

Hari terakhir di Bdg g kagak ikutan acara ke G. Tangkuban Perahu . Ada family datang dari Surabaya jadi cc g temenin mrk jalan2 kesana . G sih udah ga ada yg diliat lagi jadi siang itu lgs pulang ke JKT .
Namanya juga org luar kota lom pernah liat T. Perahu jadi penasaran . G juga sih baru liat sekali itupun udah lama sekali . Org2 Surabaya itu dibawa jalan ke Kmp Daun , Makan di Sapu Lidi & liat kawah T. Perahu berikut laporan singkat nya :
Makan siang di Sapu Lidi meski bnyk org blng kurang enak tapi kata yg makan boleh juga ha ha … Suasana makan di tengah2 sawah dgn dangau2 nya asik juga , makanan lupa dipoto pas inget semua nya dah ampir ludes jadi tinggal sisa2 jelek buat poto2 , he he …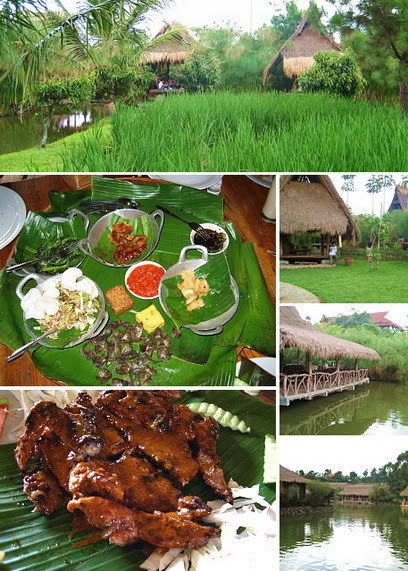 Yg baru >> skrg disana dibangun resort bungalow kae di Kmp Sampireun juga dgn latar blk sawah2 , gunung dan danau buatan . ada berbagai type bungalow2 nya , g liat harganya untuk week-day tarif termurah mulai dari 900 ribu rp/night unt weekend 1.200.000 rp. Yg termahal 3,5 jt buat weekday , 3,75 jt buat weekend . Mahal juga yah ! Tapi g penasaran juga sih mau coba nginep sana kalu dibayarin ha ha ha … daripada g pergi jauh lagi ke Garut . Kan nginep di Sapu Lidi Cihideung lbh deket maen2 ke Bdg nya . Deket ke Kmp Daun , The Peak & Rumah Strawberry . Alamat tepatnya di Jl Sersan Bajuri Komp Graha Puspa Cihideung Lembang Bandung . Tlp. 022 - 2786915 , 022 - 70277435 .
Oh iya harga segitu udah termasuk B'Fast for two , welcome drink, tea time with light meal , serv & tax 21%. Yg unik rumah2 beratap rumbia setiap ruangan di design seperti rumah Joglo adat Jawa Tengah pdhl ini di tanah Parahiyangan loh . trus tiap bathroom juga di design ada "sense Romantic" nya , cakep2 deh ! Nama tiap bungalow unik2 dlm bhs Sunda >> Euis, Rorompok, Putri No'ong , Kongkorongok , Ngojay .
Darisana rombongan org Surabaya diajak ke Tangkuban Perahu aduhh kata cc g yah ampun jalan ke sana macet banget masih bnyk org yg minat liat gunung tsb krn bentuknya yg mirip perahu yg terbalik . Mereka turun sampe deket pinggir kawah , kawahnya masih terlihat bgs tapi tanpa air spt di Kawah Putih yg g liat . Setelah org2 itu puas liat dgn mata sendiri ohh gitu toh Tangkuban Perahu baru mrk beranjak plng . Ha22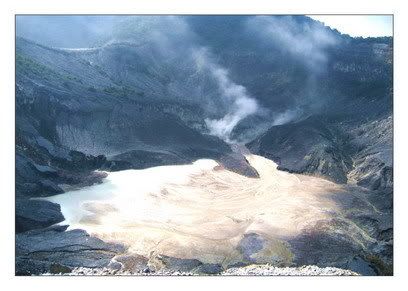 Sekian lah rangkuman crt jalan2 singkat g selama Lebaran kemaren di bumi Parahiyangan >> tempat kelahiran nyokap g , tempat g berlibur dari kecil smp skrg . Org yg ramah2 , suasana kota/desa yg dikelilingi gunung2 and yg paling penting bnyk makan enak , ha ha ha …