Scenary of Urumqi …

Crt ini g dapat dari perjalanan sepupu g yg akhirnya bergabung ama g di Macau kemaren itu . G ga bisa crt detail krn tidak mengalami journey ini . Crt ini g rangkum dari hasil cerita2 malam di kamar Htl di HK , biasa tuh abis mandi ga brasa ngantuk jadilah kita suka crt ngalor ngidul . Seperti biasa sepupu g (yg suka tavelling round the world itu) kali ini diajak sama salah satu members jalan2 dia yg org Bandung . Org Bdg itu denger2 katanya ada wilayah wisata baru di China yg mungkin belom populer di Indo , jadi itu org cari travel di Bdg suruh arrange acara kesana dengan spesifikasi acara n tempat mana aja yg dia mau kunjungi . Jadilah dia mulai ajak2 members yg biasa bergabung dlm acara jalan2 nya .
Daerah Urumqi ( dlm bhs Mongol yg artinya lembah yg indah) kalu ga salah termasuk dlm provinsi ZhinJiang diwilayah china bagian barat laut . Penduduknya kira2 2 juta jiwa mayoritas beragama Islam , terdiri dari macam2 suku, selaen suku Han , Ulghur , Mongolia dll .
Daerah sana kebanyakan wisata nya gurun pasir , ada juga sih danau2 , bukit2 batu . Yg paling seru kata sepupu g kalu mereka mau pipis , aduhhh susah setengah mati kalu udah di gurun2 gitu . Ga ada Toilet terpaksa pipis dibelakang bukit2 or gunung2 batu . Yg ce sebelah sini , yg co sebelah sono , ha ha … Ga tau kenapa pemerintah belum membangun fasilitas Toilet disana , tapi fasilitas jalan raya udah lancar sampe kepelosok desa . Kalau pun ada toilet misalnya di sekolah2 , kantor2 kelurahan aduhh kotor nya minta ampun, seperti org di Indo org2 disana pun jorok juga . Jadi masuk toilet merupakan pemandangan yg mengerikan >> so mereka milih lebih enak pipis di gurun or BAB di gurun . ha ha… . Sodara g tuh paling takut panas jadi pipis sambil dipayungin sama temennya secara bergantian . ha ha ..
Kata sepupu g pemandangannya luar biasa , ga lama lagi pasti masuk dlm pasaran wisata di Indo yg ada skrg kan paling2 Zhujaiquo , Harbin , Quilin , Shanghai , Hangzhou dll . Itu sepupu g yg udah travelling round the world terkagum2 liat scenary disana , g sendiri ga liat jadi lom bisa kasih komen . Pokoknya dia bilang : hebat , hebat mulu . Sampe dia tanya e sanggup ga pipis di gurun ? kalu sanggup baru bisa kesana >> g reply : sanggup aja asal pergi kesana loe yg bayarin , ha ha …
Perjalanan antar satu tempat ke tempat laen begitu jauh , kdg bus bergoncang2 juga sih kalu lwt jalan yg masih dlm pembenahan , pokoknya acara kesana menguras tenaga n tdr di jalan memakan waktu yg pjng . Tapi semua kecapean itu dibayar dgn pemandangan yg indah … itu kata dia loh !! he22
Begitu masuk kota >> mrk tetep bisa tidur di Htl2 bgs sih , makan di resto2 enak dgn jenis masakan ga kambing lagi trus makanan nya enak2 semua kata dia . Kota2 nya sih bersih2 dgn pasar2 buah yg g liat bersih yah , bnyk buah lengkeng n Leci yg emang waktu itu adalah musim nya . Leci disana gede2 dgn kulit yg segar sehingga daging buah ga lembek spt Leci yg ada di Jkt . trus bnyk dijual manisan buah yg udah dikeringkan , bnyk juga yg jualan juice buah spt juice buah delima yg keliatan menggiurkan banget .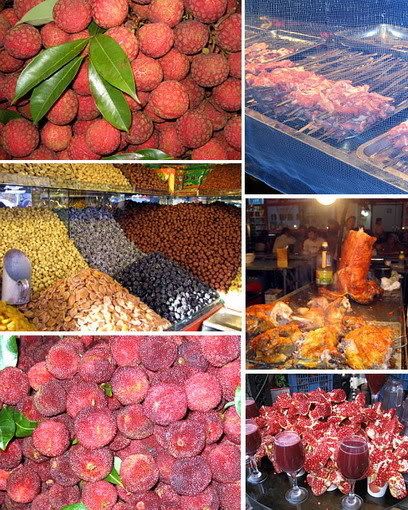 Smp di Kota Xian bnyk bangunan khas Chinese old Arsitecture dgn gapura2 n rumah2 kae biara shaolin , kuil2 .Tapi masuk kota Urumqi laen lagi gaya nya >> dgn arsitek khas Arab Persia >> mesjid2 nya banyak n bgs2 . Semua dirawat dgn baik tapi g ga tanya itu dibangun sejak kapan ?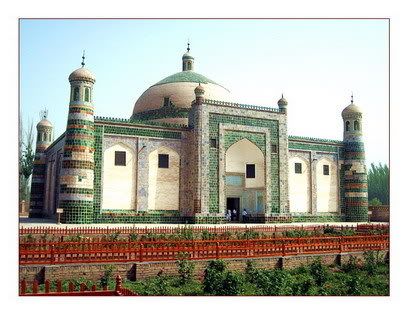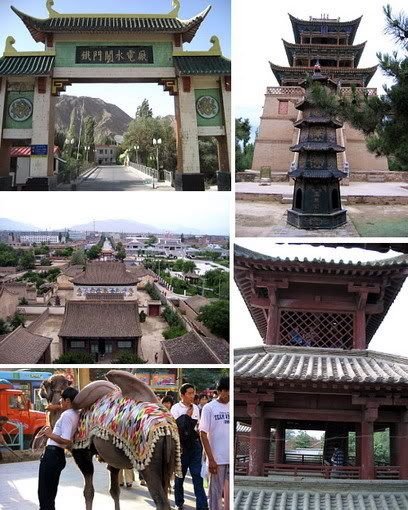 Yg bikin sodara g kaget liat penduduk kampung sana katanya >> cakep2 yg ce nya mirip gadis Ubekzhistan putih2 cantik dgn mata besar . Rombongan tour masuk ke satu desa keluar masuk pemukiman lalu ajak poto2 anak2 sana . Ada ce yg malu2 waktu mo dipoto , akhirnya dia mau juga di poto setelah dibujuk2 mama nya , ha ha .. cakep yah tuh anak . Bisa maen sinetron kalo dia ada di Jkt .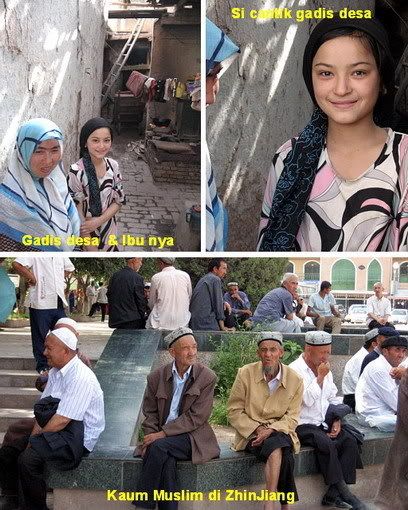 Kalu anak2 di gurun laen lagi , muka nya penuh debu krn jarang mandi tapi pipinya merah2 mgkn krn cuaca yg tidak menentu di gurun sana . Siang panas bukan maen malamnya dingin sekali . Lucu kata sodara g liat anak2 disana , polos banget mrk itu .
Kalu yg tua2 yah spt kaum muslim di Indo , mrk pake peci n suka bergerombol menunggu waktu sembahyang . Muslim merupakan mayoritas penduduk di daerah itu . Oh iya pokoknya semua berbau Arab disana , liat aja bnyk Unta di daerah sana . Terlihat mesjid dimana2 dgn gaya arsitek yg cakep2 ! tengok deh kubah n tower2 nya . Mgkn bagi org yg ga tau kalu ingat negri China yg pasti terlintas pertama dibenaknya cuman pagoda2 (kuil), ga kebayang kan ada wilayah disana dgn mayoritas muslim n segitu banyak tempat ibadahnya yg bagus2 .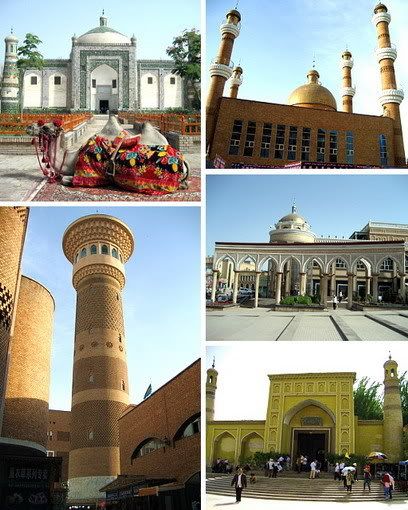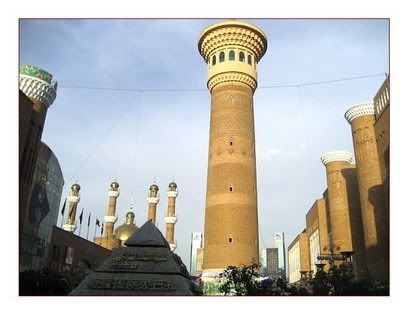 Oh iya satu lagi pas melintas di daerah mana, rombongan sempet turun krn melewati daerah pekebunan buah >> liat aja tuh anggur yg menjuntai2 n pohon apel di mana2 rasanya pengen g petik2 tuh buah2an .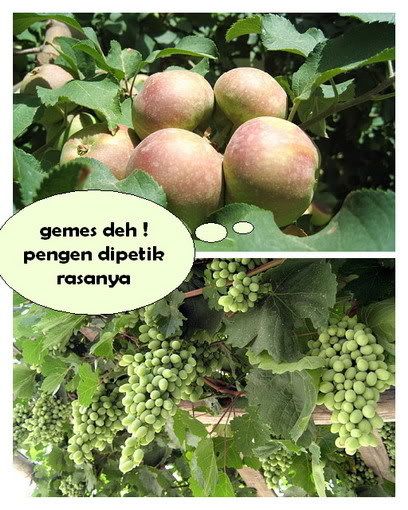 Itulah crt singkat sebagian wilayah China di Ujung barat laut yg berbatasan dgn Rusia & Mongolia (di utara) Tibet, Nepal , India (selatan) Pakistan & sebagian wilayah pecahan Rusia (Barat) . Pantesan terlihat aneka budaya yg beragam . Kapan yah g bisa melihat kesana ? tapi acara pipis di gurun gimana ….. ha ha ha ..