Setelah muter2 di Pas Ples g pgn nyari Honeymoon Dessert tapi kagak ada , jadilah kita mampir ke Pancious aja buat cuci mulut he222 . Sengaja kita milih jenis yg pake ice cream krn emang duah kenyang mo cari dessert aja . Wahh gila yah Pancious juga rame banget .
Pilih2 deh setelah dapet tmp duduk >> Cappucino with pancake , Blueberry cheese waffel , Dark Cobana & ice cream Sundae coklat n vanilla . Ada menu laen spt sandwich dgn bhn dasar pancake & macam2 pasta tp berhubung masih kenyang n pgn yg manis2 jadi itulah pilihan kita .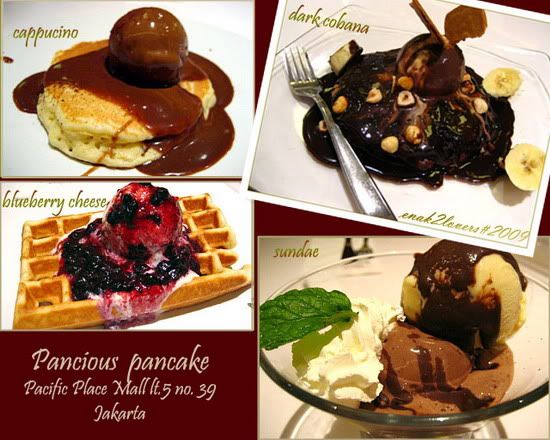 Cappucino pancake biasa aja , pancake yg disirem saus cappucino plus topping ice cream coklat tapi enak sih pancake nya yg lembut itu . Yg Blueberry Cheese with waffel enak nih ! krn rasa manis berpadu dgn gurih nya cheese , trus disirem saus blueberry yg sedikit asem2 waffelnya enakk banget .
Yg paling sipp >> Dark Cobana (dark chocolate banana) pancake coklat disirem saus dark coklat , ice cream n irisan pisang , rasanya ini mantepp deh ! kalo Ice Sundae yah biasa aja lah . G kalu kepikiran pancake mustinya serabi juga bisa direkayasa kae gini , topping nya yah eskrim kenong yg abang2 jual >> yg bikinnya pake garam itu , he222 garnishnya yah pake kue semprong matching juga kan ? ha222