Ini crt sisa 2 hari g di Kunming sebelum tour selesai , crt nya gitu tiba dari Shangrilla kita lgs dibawa city tour . Krn waktu masih pagi sekitar jam 9.30 mula2 kita dibawa liat Daguan Park yg terkenal jg dgn nama Grand View Pavillion . Setiba disana spt biasa kita disuruh ke toilet dulu , g sih udah piss di pswt jadi ogah masup toilet lg .
Grand Pavillion ini terlihat megah dari luar dgn gerbang khasnya yg sejarahnya diperkirakan uda 300 tahun. Gitu melangkah kedalam … lgs terasa enak n sejuk suasananya krn bnyk tanaman n bunga2 . Terlihat Baliho raksasa bertulisan : The Water Lily Festival of the 5th open in Daguan Park . Trus di dkt baliho ada bunga2 yg dirangkai bentuk naga , trus diseberangnya ada panda dari rangkaian bunga2 jg . Ihhh bgs2 n keren2 yah ga lupa de poto2 norak dolo wkwkkkk !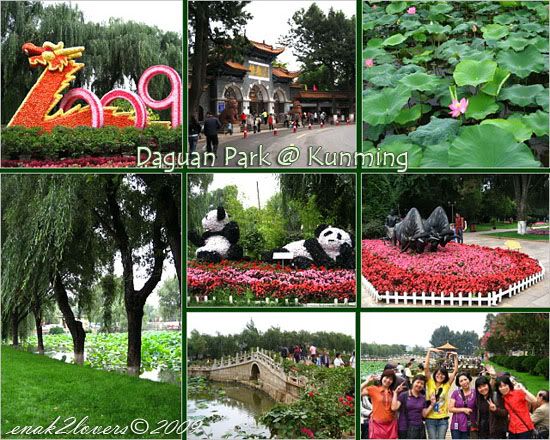 Sebelom masuk lbh jauh Maria explain tmp2 yg akan kita lalui melalui papan yg berisi petunjuk arah n ada gmbr2 nya kita bisa jalan keman aja . Mulai lah kita masuk taman yg luasnya 60 hectar ini , wuihhh gile tuh kolam lotus gede banget cakep banget , trus lewatin toko2 cindera mata , lorong2 adem yg bnyk pohon2 nya , ada danau2 kecil n kursi2 buat istirahat . Semua terlihat bersih n rapih . Sampe kita lewatin satu tmp jajan buat beli minuman liat kentang goreng yg bentuknya unik ditusuk panjang melingkar , jadilah kita beli trus dicabein . dimakan rame2 asikkk enaknya !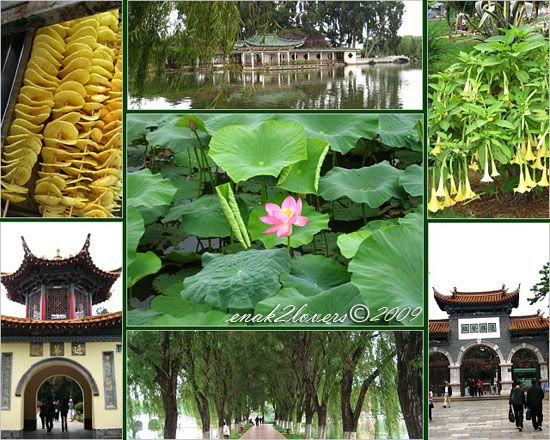 Kita jalan makin lama mkin jauh smp akhirnya nemu satu areal kae mini Dufan ada Roller Coaster nya tp kita gak maen . lelah jg ngiterin taman yg luas ini mana panas lagi terpaksa brp kali stop untuk beli minum atau beli es . Stlh kelar ngiter taman , kita kluar darisana lgs menuju satu resto buat Lunch .
Gitu masuk resto n naek ke lantai 2 , g udah berharap kali ini bs mkn enak secara restonya meyakinkan dgn pajangan penuh ornamen Chinese plus gentong2 isi arak or obat2an . Tempatnya sih OK deh , g lgs duduk berasa lelah krn kita tadi pagi2 sekali terbang dr Shangrilla trus gitu tiba lgs city tour . Mula2 kluar segentong soup yg g ciduk ternyata soup herbal (cia poh) g lgs down semangatnya krn ga suka soup kae gini . Blom ilang downnya gileee berturut2 kluar 3 gentong lg soup herbal dgn isi n obat2an yg berbeda . hua222 mati kutu deh g !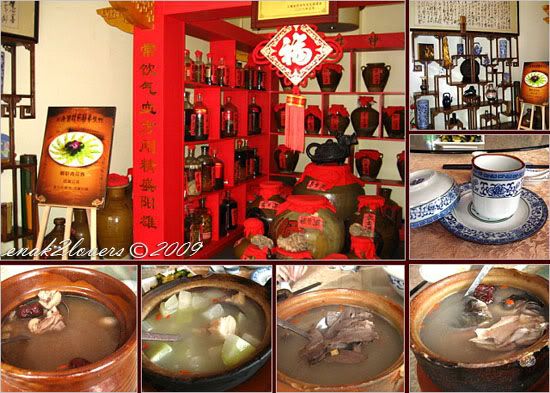 Cuman bisa melongo aja , lucu jg liat ponakan2 g yg ABG jg melongo n patah semangat . Mana ga ada mknan cadangan lagi , tp sodara g berusaha membujuk kita untuk mkn dgn dalih biar ga enak tapi ini mknan sehat . G tetep ogah , menunggu makanan selanjutnya kluar >> berturut2 kluarlah mknan ajaib spt tampak dlm poto . Untung g lom gitu kelaperan g ciduk aja sedikit mashed patato , tumis jamur yg hitam & putih , sedikit sayuran hijau . Makan seada nya . hi2222 ihh bener2 gila deh g ga bisa mkn kalo kae gini terus ! tp ini acara akhir jalan2 kita jd g tabah2in aja .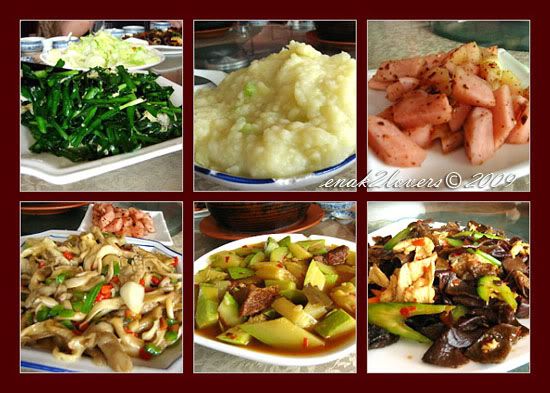 Kelar mkn kita lgs masup bus untuk tujuan berikut , di dlm bus Maria blng sengaja kita dibawa mkn herbal soup krn kita udah ampir 10 hari jalan jauh n naek gunung . Ini makanan untuk mengembalikan stamina , ooohh gitu toh ? pantesan ! ga kira2 yah semeja bisa kluar 4 gentong herbal soup ha222 !(BERSAMBUNG)